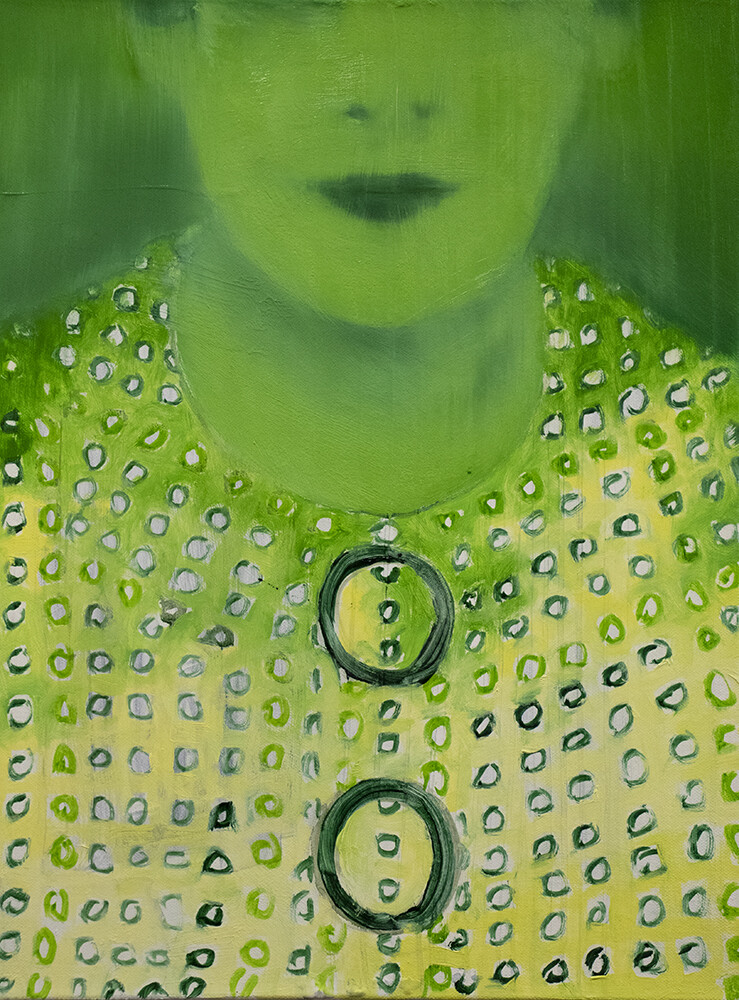 ​Posterized Stimulation II | Figurative Abstract Portrait Painting by Bartosz Beda
00327
Posterized Stimulation II, oil on canvas, 40x30cm (16x12inches), 2021
Product Details
Posterized Stimulation II, oil on canvas, 40x30cm (16x12inches), 2021
---
This painting is shipped stretched in the cardboard box with other packing materials

Artwork comes signed and dated on reverse with Certificate of Authenticity.

Free Shipping (Custom fees for international shipping not included)
The artwork you see is a one-of-a-kind Original Painting - only one painting like this in the world.
---
New Series of Paintings called Posterized Stimulation
Posterized Stimulation is a series of new paintings created by Bartosz Beda that explore different tones of green and the perception of color in the painting.
The primary effects of green color on our body are known and used in advertising, psychology, and our approach to nature. Green colors are calming, stress-relieving, and generally have favorable effects on our bodies.
Watch step by step LIVE Painting Session!
I am often asked how I create my paintings. You can watch now and see it yourself.
Consider subscribing!
These paintings combine blurred elements, patterns, and soft lines, through delicate mark-making and pure interpretation of ornaments that intensify green perception on our body. Some of them should be calming and carries the vibration of growth. Some might bring a type of uneasiness that leads the viewer to browse with eyes around the painting for unwinding significances.
Every painting in Bartosz Beda's new body of work is unique and different in green color tones. It sets apart these oil paintings from other series of artworks painted by artists.
---
Note from the Artist:

My name is Bartosz Beda, I am an artist, and I'm excited to show you this artistic painting I have for sale!
I am passionate about painting, and I believe that high-quality art should be available to everyone! That is why I decided to share my artworks with you.
I have been painting since I was seven years old. BBC Radio 4 mentioned me as 'one to watch.' The Spokesman-Review said: "Imagine you just found out that a young Picasso, Warhol or Dali just happened to be passing through (...) prior to becoming renowned. Would you want to meet them? See their art?" That's an important reason to pay attention to my art. Please read my full biography here and browse my website for exhibition record and press. Please feel free to contact me with your questions.
---
Consider to be my collector. I create new paintings every day, and I will continue doing it. It is not only my passion but a way of living. I am here to stay and grow with my art.
I am continually innovating with my painting, as many artists do. I use mark-making unique to my style by applying thin and thick layers of paint.
I like to finish a painting in one session, and rarely come back to the same painting—some of my sessions last eight to 12 hours, and some as little as 15 mins. I painted artworks that took a month to complete.
My paintings are loose, sketchy, appear to be unfinished, limited in color pallet or colorful, and have details that hold the entire piece together. Often collectors say that my work - even with bold brushstrokes - is realistic.
"When I paint, I combine abstraction and representation, but I don't create any systems in the abstract or figurative form within which objects, figures, and strokes find their order. The form is a conscious connection between me and the canvas. I interpreted the form created on the surface as the subconscious activity of the mind that reflects directly on the surface of the painting". Read full interview here

Save this product for later